Specialist logistics developer Tritax Symmetry is to bring forward a one million sq ft scheme in conjunction The Land Trust at the former Cronton Colliery in Knowsley, Merseyside.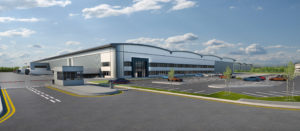 As well as the employment site  there will also be a 65-acre country park established to provide publicly accessible open space and community facilities.
The Land Trust has entered into an agreement to transfer an area of its land to Tritax Symmetry, which will form part of the employment site adjoining the associated Country Park. Planning applications for the respective masterplans will be submitted to Knowsley Council this summer, once a period of public consultation has taken place.
The project team includes Gerald Eve as planning consultants and UMC as architects for the employment scheme. Michael Lee Architects will work in partnership with the Land Trust on the design of the new Country Park.
The former colliery is located east of Junction 6 of the M6. As well as creating up to 830 gross jobs during the construction phase, once operational the employment site will generate more than 900 jobs within the Liverpool City Region
A new sustainable transport route will follow the abandoned mineral railway line, facilitating safe access for all and connecting the towns and villages to the north and south of the M62.
Tritax Symmetry is the dedicated logistics developer of Tritax Big Box REIT.

The 24th Supply Chain Excellence Awards, with new categories for 2020 including the Warehouse Initiative Award will take place on 12 November. For more information, including how to enter and sponsorship opportunities, contact daniel.jessop@akabomedia.co.uk