Suttons Tankers is to acquire DHL Supply Chain's domestic bulk commodity chemical business, which includes chemical transport from sites in Billingham, and Runcorn.
The deal does not include DHL's dedicated services in packed chemicals, bitumen, lubricants and fuels.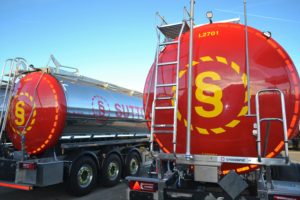 "We see DHL's bulk commodity chemical business as complementary to our existing offer and in line with our strategic commitment to this market," said Michael Cundy, managing director of Suttons Tankers.
Suttons operates in the UK with a fleet of more than 500 vehicles focused on the chemicals, gas and fuel sectors, with operations in New Jersey, Antwerp, Ludwigshafen, Singapore, Widnes, Shanghai, Tokyo and Khobar.
Stuart Carlyon, VP, operations industrial transport within network logistics & transport division at DHL Supply Chain said: "We welcome this approach by Suttons Group. Like us, Suttons is a premium operator working in specialised logistics, use highly-skilled driver, workshop and support staff with an emphasis on safety and customer service."