Visitors to the Swisslog stand at IntraLogisteX 2020 will be able to see its next generation robotic picking systems as well as its new data visualisation software offerings.
Swisslog (stand 324) will showcase its ItemPiQ robotic order picking system at IntraLogisteX – which takes place at the Rocoh Arena on 31 March and 1 April –  and how it can be linked to material handling solutions such as AutoStore.
It will also showcase its SynQ software offering, which it says delivers new levels of business intelligence, capturing and visualising data produced in the warehouse.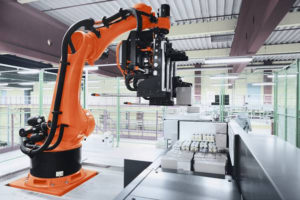 Shane Faulkner, head of sales at Swisslog UK, added: "Constantly changing consumer expectations means more organisations are looking at ways to improve productivity while creating long-term savings. Our automated solutions are particularly distinctive because they have the flexibility to be expanded as the business grows.
"Logistics professionals looking to experience this technology first-hand and discover the benefits for their own operation should register for a free logistics automation consultancy appointment," he added.
Meanwhile Swisslog will be running a 'Think Red: Go Green' campaign throughout 2020 and Faulkner said the company, which is part of Kuka, will have a strong focus on green initiatives.
"Despite the common misconceptions, there are ways of utilising warehouse automation while remaining energy efficient. Our Vectura stacker crane for palletised goods is a great example of this, having been continually refined to reduce overall energy consumption."

Swisslog (stand 324) is exhibiting at IntraLogisteX – the UK's only intralogistics show in 2020 – which takes place on the 31st March and 1st April 2020 at the Ricoh Arena, Coventry. Register your interest now at www.intralogistex.co.uk