If you need extra storage space, or a warehouse as a result of an emergency, then a Fews Industrial structure is the solution for you. Our Temporary Warehouses are available to hire or purchase anywhere in the UK.
Fews Industrial has over 15 years of experience and provides the highest quality products and service.
See our new website by clicking
here
.
Needing additional storage is just one challenges of a successful business, it can be a response to an emergency or a temporary spike in demand.  Whatever the reason, we are on hand to provide the ideal solution in terms of the right structure, and meeting tough deadlines.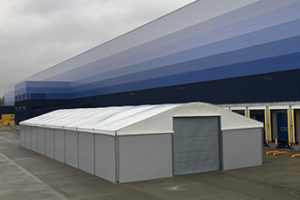 Our client, SSI Shafer, is a world leader in planning and implementing comprehensive warehousing systems and associated software solutions across a number of market sectors. These include fashion, industrial, healthcare, cosmetics and food retail.
The firm were fitting out a major distribution centre for a fashion retailer near Milton Keynes, and came to Fews Industrial with an urgent requirement to hire a temporary structure to house the components for an automated warehousing system while the fitting took place inside the main warehouse.
The challenges on this project were the urgency, specific space restrictions, and the need for artic lorries to be able to drive through the structure to unload inside.
Given the requirements and tight timescales, we built a 15mx45m temporary structure on a 4m leg. In order for the artics to access the structure we fitted 5m wide roller shutter doors extending into each gable to give the necessary height clearance.
In addition, all walling was rigid UPVC panelling to help with the harsh winter weather. Steel personnel doors were also fitted adjacent to both roller shutter doors for access and provide a means of escape.
Much to the delight of SSI Schafer's team, we completed the build within four days which ensured that there was no interruption to their project plan.
Width: 15m
Length: 45m
Eaves 4m
Walls: Rigid UPVC Panelling
Roof: Single Skin translucent white PVC roof
Doors: 2 x 5x5m roller shutter doors and steel personnel doors
Expected project duration: 6 months
For more information contact us on:
01527 821789
http://www.temporarystructures.co.uk/application/temporary-warehousing/