Tilemaster Adhesives has signed a five-year lease on a 47,500 sq ft warehouse at Chancerygate's new Grade A 101,000 sq ft development at Chorley, Eaton Point on Matrix Park.
Tilemaster Adhesives' refurbished warehouse, Unit One, is the largest onsite out of 13 other new warehouse and industrial units which range individually from 3,300- 6,630 sq ft at Eaton Point. It's neighbouring occupiers at Matrix Park include Waitrose, Synergy Health, NSG and Bodycare.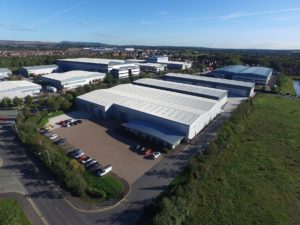 "The past two years have been an exciting new chapter for Tilemaster and with this new facility we continue to grow at pace. We were very impressed with Chancerygate's refurbishment at Eaton Point and the excellent tenant service on offer," said Tilemaster Adhesives managing director Mark Kelly. "We'll continue investing in the company's growth and look forward to a long, successful future at Eaton Point."
80 per cent of Chancerygate's Eaton Point space has now been sold or let in just four months after it was completed. "We've seen high demand at Eaton Point even before practical completion in October last year and it's great to welcome a thriving business like Tilemaster Adhesives to the site," said Chancerygate asset manager David Tyson.
"We're pleased to report that nine out of 14 units have been sold in just four months, and I'd encourage other businesses to see what the site has to offer before the remaining units are sold."