Transdek is expanding its Duet trailer range with the launch of two new models at the CV Show in April.
T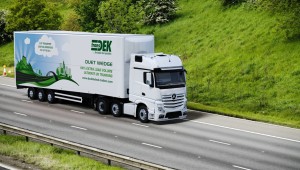 he Duet Wedge double deck box van is capable of transporting up to 52 pallets, double load volume of a standard 13.6-metre single deck trailer. This allows vehicle operators to reduce fuel consumption and CO2 emissions by as much as 50 per cent, offering significant cost savings and lower environmental footprint.
It has an ultra-slimline fixed second deck construction and chassis neck depth to maximise internal load height on both decks. This enables a full deck run-through of pallets or rollcages up to 1,790mm in height.
Compared to a typical 13.6-metre stepframe double deck trailer, the Wedge trailer provides an additional eight pallet footprint spaces, or 18 per cent extra load volume, offering the ultimate in rear-loading volumetric trunking.
The Duet Wedge will feature Transdek's twin slide door arrangement, which has been specifically designed to support optimal double deck operations.
Also on display will be Transdek's Mark II Duet Urban double deck trailer, designed for high volume deliveries to city centres. The Mark II has an adapted tail lift for unloading at the high street. As well as multi-temperature option, additional safety features, such as reversing cameras, and cycle-safety ultrasonic side and rear detection systems are available on the trailer.
The CV show takes place at the NEC Birmingham from 14-16 April.