A month after it sold irregular dimension and weight (IDW) specialist Tuffnells to investment vehicle Palm Bidco, Connect Group has described the self-proclaimed Big Green Parcel Machine as a "drag on profitability and cash".
As Connect Group revealed a 45% drop in turnover and 12.6% drop in pre-tax profit for the first half of its financial year its interim chief executive Jonathan Bunting said the removal of the "drag on profitability and cash, and the alignment to our core expertise, will strengthen and focus the group going forward".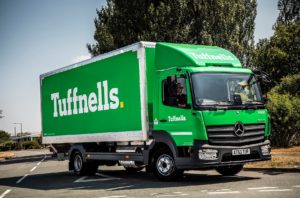 The financial performance at Connect Group – dominated by its Smiths News wholesale division following the disposal of Tuffnells – relates to the 26 weeks ending 29 February and were materially unaffected by lockdown and the Covid-19 pandemic.
However turnover fell to £623.1 million for the period, while pre-tax profit fell to £16.3 million.
Bunting said: "The Covid-19 pandemic will clearly have a material impact on the Group's performance in the second half of the year, the quantum of which remains unclear.  
However, our markets and business model are well placed to recover as lockdown restrictions ease. In the current environment, we are applying that same focus to our vital role in supplying our retailers and their communities across the UK."
In the financial year ended 31 August 2019, Tuffnells reported an adjusted operating loss of £14.1 million on turnover of £164.4 million, which represented 11.2% of aggregate group turnover in that period.