Businesses planning warehouse operations for the forthcoming festive season can be massively challenging as we know. Packaging is one of the most space-intensive requirements and this, along with staff shortages, social distancing and fewer HGV drivers on the road, are a direct threat to productivity.
Then there's the seismic shift to online orders because of the Covid-19 pandemic and space constraints at peak periods likely resulting in slower packing times and delays in despatching. All of this combined could result in unhappy customers and really damage growing businesses.
In response, Protega Global has developed the 'Hexcel Dispenser Bench' to complement its paper alternative to plastic bubble wrap. It's a packaging innovation that can enhance operator efficiency, productivity and sustainability in all warehousing and packing areas.
Companies are becoming increasingly aware of the need for sustainability to be reflected in the packaging they use so it ticks a huge box there, too. Sustainable packaging shows customers they are taking corporate social responsibility seriously, plus it enhances brand image, encourages returning customers, minimises carbon footprint, lowers shipping costs and reduces waste.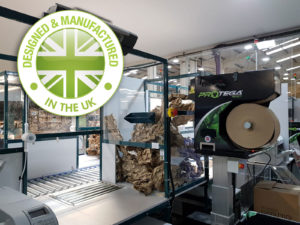 There are viable, cost-effective alternatives to non-sustainable packaging. From space-saving solutions to help streamline operations in packing areas already under pressure, to sourcing smarter and faster ways to pack goods, and eco-friendly packaging to satisfy consumers.
For example, 100% biodegradable and recyclable solutions, for speeding up a taping process, including no tape at all! Or a combination of Protega's Hexcel equipment and stackable material on a packing bench that can save time and improve production, saving operators having to access large rolls of bubble wrap stored elsewhere on the floor. It's also very flexible for different applications because it can spiral wrap wider products without the need for adhesive tape.
"From direct experience, we know that packing areas can become very busy very quickly, and when this happens space can become the number one problem," said Richard Steedman, Protega Director. "A messy environment can quickly become unproductive if there is a lack of room to move, and obstructions can easily cause health hazards, breakages and reduced staff morale.
"We have condensed all our knowledge and experience into one useful online tool that will help with productivity and sustainability in any warehouse or packaging business. Our customers can literally turn a new page with our eBook!"