Tesco and Waitrose have suspended goat milk provider St Helen's Farm, after an investigation by animal rights group Surge.
Workers at Far Marsh Farm – associated with A&K Wielkopolski and Yorkshire Dairy Goats in East Yorkshire, operator of the St Helen's Farm which supplies major UK supermarkets including Sainsbury's, Waitrose, and Tesco, were filmed kicking and punching goats.
Since the investigation came to light, Tesco has suspended its contract with the brand, with Waitrose following soon after.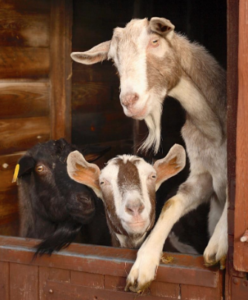 A spokesperson for Tesco said: "We require high animal welfare standards from all brands sold at Tesco, so these claims are deeply concerning. We have immediately suspended supply whilst we investigate the matter further."
Marks & Spencer has also removed the brand from its shelves.
St Helen's Farm is currently stocked at Morrisons, Sainsbury's, and Ocado.
A spokesperson for St Helen's Farm said: "Yesterday we were made aware of allegations that one farm had infringed animal welfare standards, which we would find totally unacceptable if true.
"We immediately ceased all milk supply from this farm and launched a full investigation to determine the facts of this matter."
Legal experts at Advocates for Animals were contacted by Surge, who conducted the investigation, and identified breaches of the Animal Welfare Act.