Two units have come onto the market at Kingswood Lakeside Development in Cannock.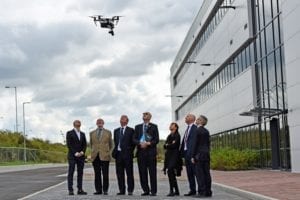 The 153,803 sq ft Grade A CONNEQT Alpha has been built and is ready for immediate occupation, while planning has been secured for the 129,550 sq ft CONNEQT Beta, construction of which has started and is due to reach practical complete in September 2019.
The units are being marketed by Avison Young and JLL.
CONNEQT Alpha features 14 loading docks, 72 trailer parking spaces and up to 290 car parking spaces, and 15,431 sq ft of offices
CONNEQT Beta has 12 loading docks, 16 trailer spaces and up to 246 car parking spaces, with 12,130 sq ft of offices.