Uber, the mobile phone app that allows customers to book and track mini-cabs, is moving into the freight business with the launch of a cargo service in Hong Kong.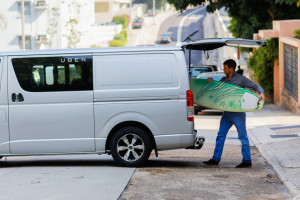 The service targets small businesses and individuals with goods to move. Launching the service, Uber said: "With UberCARGO, your goods travel like a VIP. The same cashless and convenient service you have grown to love through UberBLACK and uberTAXI is now available for all your moving and delivery needs.
"If you own a business, UberCARGO provides an easy way to cover on-demand logistical needs without complicated and costly delivery arrangements."
Customers can load items in the back of the van themselves or request the driver's assistance. Deliveries can be tracked in real-time through the app, the item's location can be shared with the recipient.
Rates are calculated based on time & distance. Because UberCARGO trips require loading and unloading time, drivers will begin the trip upon meeting with the rider and end the trip when any unloading is finished.