Autostore has chosen the IntraLogisteX exhibition held at the Ricoh Arena, Coventry on the 26-27 February for the launch of its new Black Line range.
The new Black Line cube storage solution is taller, faster, and lighter. It offers a maximum throughput of 650 bins per hour.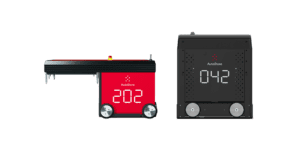 It has a smaller footprint than its red predecessor the R5, enabling a wider product range to be handled.
The Black Line also runs on a new grid system featuring double tracks enabling movement in either direction. The Black Line can be mixed with the R5 and different ports (where bins are presented for picking).
The Black Line now features an exchangeable lithium-ion battery. The robots will pick up a fully charged battery when needed.