Universal Robot's full range of cobots will be on display at Robotics & Automation from the 10th -11th October at Arena MK. Visit us at stand 411 to get hands-on with the technology and assess its potential for your business!
E-series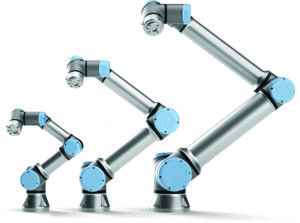 Universal Robots (UR), renowned for being the cobot market leader and pioneer, has introduced its new flagship e-Series line of collaborative robot arms, as part of its mission to bring the benefits of automation to companies of all sizes.
The e-Series builds on the original UR cobot with six articulation points and a wide scope of flexibility. Designed to mimic the range of motion of a human arm, the e-Series enables faster development for a wider variety of applications, offers easier programming than ever and meets the very latest ISO safety standards.
All UR's cobots are supported by the UR+ 'app store for robotics', which provides easy access to a wide range of approved partners' grippers, end-effectors and accessories. They can therefore be customized for a variety of scenarios and applications. All products are tested and approved to perfectly integrate with the robot arms, ensuring quick set-up, reliable operation a smooth user experience and simple programming.