Online contact lenses supplier VisionDirect has said it is now able to cut some of its prices by up to 45% following a migration from paper-based manual sortation to a cloud-based WMS.
VisionDirect opted for a WMS from SnapFulfil to manage distribution at three sites (one in the UK, Netherlands and Spain respectively) handling some 10,000 same-day customer orders per day.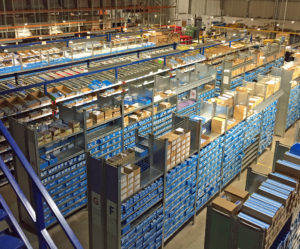 Jason Thornton, head of operations at VisionDirect.co.uk, said: "Pre-SnapFulfil, we were utilising a paper pick route  (based on a manual order sortation) , but this has been replaced by an automated process allowing our pick operatives to complete 45+ orders within a single geographical pick run, thanks to pre-set algorithms."
Thornton said that the online retailer was now able to "better communicate with customers" when it came to deliveries, and following implementation it had seen a 20% reduction in customer queries to its service support team. This, he said, was the result of an automated 'ready for shipping' notification.
"With SnapFulfil, we get the benefits of automatic storage and retrieval systems (ASRS) technology, which places and retrieves stock quickly and easily from within the warehouse environment for much improved efficiency," said Thornton.
"This helps reduce the footprint required for storage and cuts travel time, plus gives us the capability to operate over longer periods with minimal operator intervention."

SnapFulfil (stand 320) is exhibiting at IntraLogisteX – the UK's only intralogistics show in 2020 – which takes place on the 31st March and 1st April 2020 at the Ricoh Arena, Coventry. Register your interest now at www.intralogistex.co.uk