Volkswagen's all-electric van, the eCrafter, is to make its UK debut at the Commercial Vehicle Show later this month, ahead of real-world testing beginning with UK customers at the start of May.
Four UK customers are taking part in the tests: Gatwick Airport, Heathrow Airport, City of London Corporation and the London Borough of Southwark.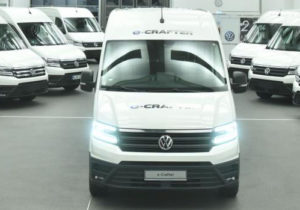 The eCrafter has been tailored to typical city operations. It has a 100 kW power output, range of around 100 miles and top speed limited to 56 mph.
Its lithium-ion battery is integrated into the under-body, meaning the standard vehicle's 10.7 cu m cargo volume is fully usable. A maximum payload of between 1.0 and 1.75 tonnes is available.
At a CCS charging station supplying the battery can be charged to 80 per cent in just 45 minutes. From a wall box, charging time to 100 per cent is around 5.5 hours.
The eCrafter will be available in September 2018, once it has been extensively tested by customers in practice and made fully ready for the market.
The CV Show takes place at the NEC in Birmingham from 24-26 April.