Volkswagen is to use a new 3D printing process, named HP Metal Jet, which allows the mass production of vehicle parts for the first time.
The process developed by printer manufacturer HP promises a 50-fold productivity improvement over other 3D printing methods. Volkswagen is partnering with HP and GKN Powder Technology on the project.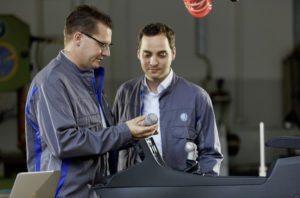 Dr Martin Goede, head of technology planning and development at Volkswagen, said: "A complete vehicle will probably not be manufactured by a 3D printer any time soon, but the number and size of parts from the 3D printer will increase significantly.
"Our goal is to integrate printed structural parts into the next generation of vehicles as quickly as possible. In the long term, we expect a continuous increase in unit numbers, part sizes and technical requirements – right up to soccer-size parts of over 100,000 units per year."
A Volkswagen vehicle is manufactured from 6,000 to 8,000 different parts. Previous 3D printing processes can, however, only be used for the special production of individual parts or prototypes.
The new 3D printing process using the HP Metal Jet process is an additive process in which parts are produced layer by layer using a powder and binder. The component is then "baked" into a metallic component in the so-called sintering process. This differs from previous processes in which powder is melted by means of a laser.
In collaboration with HP and GKN, Volkswagen is further developing the technology so that design elements can be printed in a small series at first. This will be the prerequisite, to be able to produce individualized design parts such as tailgate lettering, special gear knobs or keys with personalized lettering for customers without a great deal of effort. The plan is to be able to offer this kind individualization proposition to customers as soon as possible.
As early as next year, GKN Powder Metallurgy intends to establish a process chain geared toward automotive production in collaboration with Volkswagen. The first small (design) components are to be used to further develop the technology so that the first structural components for mass- production vehicles can be printed within two to three years.
Peter Oberparleiter, chief executive of GKN Powder Metallurgy, said: "Our vision for additive manufacturing in the enterprise moves beyond prototypes and small-series production and into mass production. We see a future where every modern digital company will have a cutting-edge 3D printer in their facilities, enabled by GKN technology, design and support, to produce metal parts in 24 hours. This strategic partnership with HP is the tipping point to accelerate that vision."
Stephen Nigro, President of 3D Printing at HP Inc, said: "Volkswagen is driving unprecedented innovation as the automotive industry goes through its most transformational era since cars first rolled off the assembly line. "We're proud to collaborate with Volkswagen to identify opportunities for production based on HP's new Metal Jet 3D printing platform. Together we are engineering and testing solutions for mass-customization and the creation of higher-performance, lower-cost functional parts."