Volvo is trialling a Krone City Liner trailer in urban areas, including inner London, to re-open the debate regarding the use of articulated vehicles. Currently the London Lorry Control Scheme restricts the movement of HGVs over 18 tonnes but does not apply to 'rigid' or 8-wheel vehicles.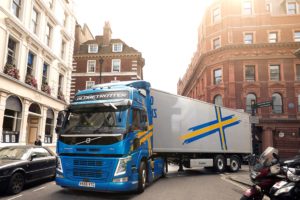 The scheme controls where HGVs over 18 tonnes can drive at night and weekends and requires permission to be granted by London Councils – which manages the Traffic Order on behalf of 31 London boroughs, the City of London and on the Transport for London Road Network.
Volvo argues it is now time to review the scheme, which has been in place since 1985. The Krone City Liner trailer is designed specifically for use in urban environments where conventional semi-trailers are less able to manoeuvre, owing to restricted space and overall vehicle length.
"This combination of Krone City Liner and Volvo FM 420 4×2 Globetrotter LXL tractor unit is perfect for manoeuvring in tight corners" said Martin Tomlinson, Volvo's head of product demonstration. "Also, it clearly demonstrates that an articulated vehicle of this specification is equally suitable as an 8-wheeler when it comes to operating in urban areas."
The trailer's compact box body rides on an 11.025m chassis with twin axles, both rated at 9000kg and has a wheel base of 7.40m. The front axle can be raised and lowered while the rear axle is force-steering – at up to 25 degrees.
Tomlinson said: "Over the last 30 or so years, technology has moved on: vehicle and trailer designs are now more sophisticated than ever and by using this latest 'City solution' from Krone and Volvo, we feel it's time to put the discussion regarding the restriction of articulated vehicles in urban areas back on the table."