Volvo is to trial "Vera" an autonomous vehicle to transport goods from a logistics centre to a Gothenburg port terminal, in a collaborative project with DFDS.
Last year Volvo unveiled its first electric, connected and autonomous solution, designed for repetitive assignments in logistics centres, factories, mines and ports. It has designed Vera for short distance work, transporting large volumes of goods with high precision.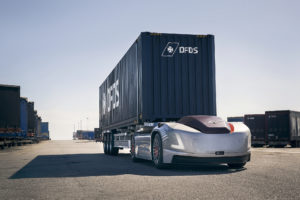 "Now we have the opportunity to implement Vera in an ideal setting and further develop her potential for other similar operations," said Mikael Karlsson, vice president autonomous solutions.
The collaboration with DFDS is a first step towards implementing Vera in a real transport assignment on pre-defined public roads in an industrial area.
The aim is to implement a connected system consisting of several Vera vehicles monitored by a control room. The purpose is to enable a seamless and constant flow responsive to demands on greater efficiency, flexibility and sustainability.
DFDS chief executive Torben Carlsen said: "This collaboration will help us develop an efficient, flexible and sustainable long- term solution for receiving autonomous vehicles arriving at our gates, benefitting our customers, the environment and our business."