International freight forwarder W.E. Deane has freed up 5,000 pallet spaces at its Barking depot in order to accommodate an expected incoming surplus as a result of COVID-19.
W.E. Deane said it was freeing up the space in order to help businesses meet with the spike in demand due to stockpiling as a result of quarantines and social distancing.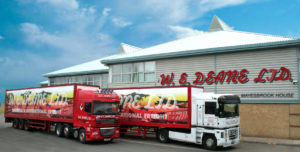 It said that as demand continues to overtake supply at what it called an unprecedented rate, businesses were struggling to source warehouse capacity.
The company also said that to assist companies struggling to fulfil orders at this time, W.E. Deane would be able to offering full warehousing, pick and pack, distribution and fulfilment services.
MD Robert Falconer, said: "In light of recent events, we have taken the decision to release 5,000 pallet spaces at our Essex/ London-based site to relieve the pressure on businesses struggling to source warehouse capacity and store their stock.
"The Coronavirus outbreak has had an adverse impact on every single stage of the supply chain so far, with warehouse capacity becoming yet another casualty of the pandemic – during a time where warehouse space was already in short supply, largely due to Brexit."
Falconer added that the situation had become increasingly more problematic the fallout from the coronavirus pandemic meant that businesses were grinding to a halt.
"We are seeing a sharp increase in businesses finding difficulty in maintaining a consistent stream of supplies to their customers and predict that this will become a mainstay for the next few months as the squeeze of capacity shortages becomes tighter."