New research from Cushman & Wakefield shows that overall take-up for 2020 is expected to surpass the 10-year average of 33 million sq ft.
The company said that there was a further 16 million sq ft of long-term deals under offer at the end of the second quarter, and on that basis take-up is likely to surpass the 10-year average of 33 million sq ft this year.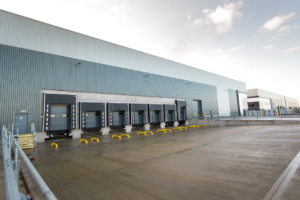 A significant amount of space is under offer to e-commerce occupiers, in what could be a record year for the sector in terms of net absorption.
Richard Evans, head of UK Logistics and Industrial at Cushman & Wakefield, said: "The latest data supports the theory that the logistics sector has emerged from the crisis of the pandemic in positive shape. Online sales have grown exponentially, the data driven economy will boost demand from the data centre sector and moving forwards occupiers across many sub-sectors will look to increase inventory levels because of their experiences during the pandemic.
"However, given the challenges of lockdown and the wider economic climate developers have been quick to adjust their speculative programmes, with most schemes being reviewed, and some delayed. This should help prevent oversupply despite the inevitable business failures we expect to see over the course of the year."
The continued and significant rise of e-commerce, which was further accelerated during lockdown, has underpinned a record second quarter for the logistics and industrial sector in the UK.
New data shows that after activity ground to a near-halt in early April, market sentiment returned quickly as the importance of the logistics sector to the UK's economy during the peak of the pandemic became evident, and the cultural shift towards online retailing was boosted by the lockdown.
Three major deals by Amazon brought second quarter take-up volumes to 13.3 million sq ft, the strongest on record. If a further 3.6 million sq ft of short-term deals (mostly generated by food retailers and the public sector) are accounted for, the first half take-up was also the strongest ever recorded at 22.6 million sq ft.
A sharp increase in the average deal size made up for the lower number of total transactions during the second quarter (46 compared to 59 on average). Boosted by the Amazon deals, e-commerce accounted for 64% and 48% of take-up during the second quarter and the first half respectively, both of which were record highs.