Mid-box industrial and warehouse developer Tungsten Properties has paid £7.07 million for a development site in Cleckheaton near Bradford in West Yorkshire.
The 10.4-acre site, at Interchange 26, was bought from Opus North with funding from British Airways Pension Trustees.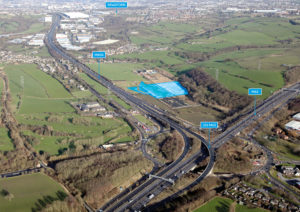 Enabling works for the site are currently being carried out by Opus North to provide a serviced plateaued site by Q4 2020. Subject to reserved matters planning application approval, Tungsten Properties will begin construction of 'Super B', a development of a 230,000 sq ft unit in Q1 2021, with completion expected by summer 2021.
The site is located at the intersection of the M62 and M606. It will sit within Opus North's new manufacturing and logistics park branded Interchange 26. Opus North is preparing to start development of a 100,000 sq ft unit and an 50,000 sq ft unit on Phase 1 of the park.
The acquisition follows Tungsten Properties' success of Super G in Glasshoughton where a 261,000 sq ft high grade warehouse facility was speculatively developed and within three months of completion, was let to PUMA and the investment sold.
According to Savills, in 2019 the Yorkshire industrial market saw record levels of take-up reaching 5.2 million sq ft through 21 separate transactions, significantly higher than the long-term average of 3.78 million sq ft. Following the recent strong levels of take-up, it has caused the rolling five-year average to reach record highs at 4.25 million sq ft. This trend has continued into 2020 as take-up in Q1 has reached 909,970 sq ft, over 200,000 sq ft more than the long term Q1 average of 692,938 sq ft.
Tungsten Properties was represented by agents Savills and Moriarty and Company. Opus North was represented by Knight Frank and Dove Haigh Philips.