Delivery company Whistl has invested in its first automated parcel sortation machine at its Super Depot in Bolton to cater to company expansion and growing customer demand.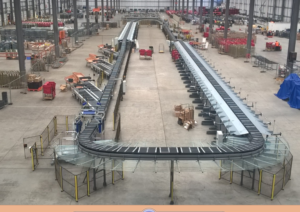 The 100-metre-long machine was designed and installed by the Beumer Group. It will handle 20,000 small to medium parcels and packets per hour at high speed through 176 chutes.
This new automatic cross belt loop sorter will enable Whistl to prepare for peak times and meet increasing demand for e-fulfilment customers to process their packets and parcels in increasingly shorter timescales.
"The new parcel sorter gives us the scalability to meet this demand for increased efficiency and to handle the increasing volume customers want us to process without compromising on our high levels of quality and customer service," said Whilstl CEO Nick Wells.