Airline Jet2.com has appointed Wincanton as its 'dedicated transport partner', with the logistics company set to manage the delivery of Jet2.com's retail products to airports across the UK.
Wincanton will transport goods from Jet2.com's recently-opened Retail Operations Centre in Cheshire to storage facilities at a number of UK airports. Located in Middlewich, the 150,000ft² facility is designed to "act as a centre for Jet2.com to stock, manage, and distribute millions of in-flight retail products".
Products stored at the site range from food and drink to goods sold on flights' onboard shop, including fragrances, beauty products, and gifts. The company expects more than 25 million items to be distributed from the centre in a typical year.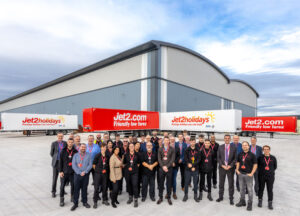 Steve Heapy, Chief Executive of Jet2.com and Jet2holidays, said: "Industry-leading customer service is a critical driver of our continued success, so we are absolutely delighted to be applying that to our in-flight retail operation.
"The opening of this multi-million pound Retail Operations Centre is a first for UK aviation and we know that this pioneering step will provide the very best service for our customers."
The operation will benefit from Wincanton's Control Tower technology. It is hoped that this will improve visibility by providing "accurate, real-time" data on the location of stock, as well as proof of delivery and resource optimisation.
Wincanton has been shortlisted as a finalist for six different awards at the 2023 Supply Chain Excellence Awards. For more information and to book your ticket, click here. Hurry – over 95% of tickets have already been sold!