Construction work is underway on 150,000 sq ft of warehousing at Portside Park, a new development in Avonmouth.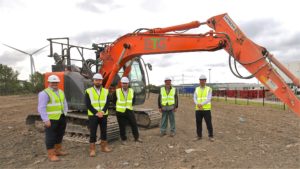 Barwood Capital and Trebor Developments are speculatively developing a number of units up to 87,000 sq ft in a single phase, which are due to be available for occupation in the first quarter of next year.
Portside Park is reached from Junction 18 of the M5 and will also be accessible from Junction 1 of the M49.
"Avonmouth is a key distribution location for the South West and the site is located in Bristol's most established industrial area. Portside Park has great prominence and connectivity. We are delighted to see construction underway and progressing well," said James Drew, development director at Trebor Developments.
CBRE and Hartnell Taylor Cook are the joint agents instructed to dispose of the new units.