The UK's first vertical rocket launching site is set to be built on the north coast of Scotland as part of a government plan to grow the country's space economy.
The development of a UK space flight programme will unlock the potential for hundreds of jobs in the supply chain, according to transport secretary Chris Grayling.
"Today's announcement is exciting for places like Newquay in Cornwall too, paving the way for further potential space ports in the future."
The UK Space Agency reckons Scotland is the best place in the UK to reach in-demand satellite orbits with vertically launched rockets.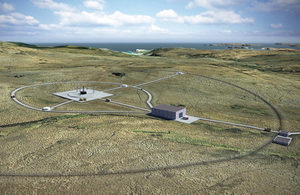 Initial funding of £2.5 million will go to Highlands and Islands Enterprise to develop the site. Another £2m is being made available for horizontal spaceport development.
Business secretary Greg Clark said: "The UK's thriving space industry, research community and aerospace supply chain put the UK in a leading position to develop both vertical and horizontal launch sites.
"This will build on our global reputation for manufacturing small satellites and help the whole country capitalise on the huge potential of the commercial space age."
Low cost access to space is important for the UK's space sector which builds more small satellites than any other country. Apparently, Glasgow builds more than any other city in Europe.