XPO Logistics is to acquire US trucking group Con-way, which owns Menlo Logistics, for $3 billion, just months after completing the takeover of Norbert Dentressangle.
Menlo has operations across Europe as well as the US. Menlo opened a 170,000 sq ft distribution centre near Chesterfield in 2013. And earlier this month is agreed a deal with Prologis for a 750,000 sq ft facility at Eindhoven in the Netherlands.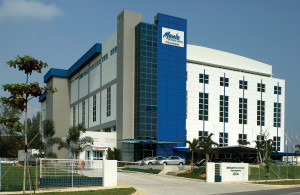 All of the acquired operations – Con-way Freight, Menlo Logistics, Con-way Truckload and Con-way Multimodal – will be rebranded XPO Logistics.
Analysts estimate that Con-way, which is based in Ann Arbor, Michigan, will produce $5.7bn of revenue and $528 million of adjusted EBITDA for 2015.
Bradley Jacobs, chairman and chief executive of XPO Logistics, will lead the combined company. Douglas Stotlar, Con-way's president and chief executive officer, will serve in a limited role as an independent advisor to the combined company until the first quarter of 2016.
"Our opportunistic acquisition of Con-way will make XPO the second largest provider of less-than-truckload transport in North America, a $35 billion market," said Jacobs.
"Another crown jewel in this transaction is Con-way's subsidiary, Menlo Logistics, an asset-light top 30 global contract logistics provider with additional lines of business in freight brokerage and managed transport. Menlo serves blue chip contract logistics customers in verticals such as high tech, healthcare and retail, which complement the verticals we serve at XPO."
Menlo's European operations are based in The Netherlands.  It has 17 dedicated and multi client logistics centres in the Netherlands, Belgium, Czech Republic, Germany, Finland, Ireland and the United Kingdom. The warehouse network can serve as pan-European distribution solution using one or several facilities.
The combination will expand XPO's global contract logistics platform by 22 million square feet, to a total of 151 million square feet, and will add 160 facilities. The acquired operations serve customers in high tech, healthcare and retail, complementing XPO's expertise in aerospace, retail, telecom, agriculture, chemicals and food and drink.
XPO and Con-way both have e-fulfilment contract logistics platforms in North America and Europe.
The transaction is not conditioned on financing. XPO has received committed financing from Morgan Stanley in the aggregate amount of $2.0 billion. The company has approximately $1.2 billion in cash and an undrawn $415 million ABL revolver, and Con-way has approximately $424 million of cash.
XPO expects the transaction to almost double its full year EBITDA to some $1.1 billion and increase revenue to $15 billion.