Yale has unveiled two new options for its pedestrian power pallet truck range: a precision control tiller head, and noise reduction options designed to allow the trucks to be used in a wider range of applications, particularly in the food, beverage, and retail industries.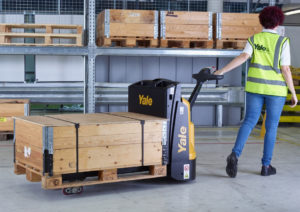 For customers operating in congested spaces, the MP16-22 now comes with the option of a precision control tiller head, offering improvements in manoeuvrability without compromising on the core ergonomics.
The MP16-18 Series pedestrian pallet truck with noise reduction option is designed to work at below 60dB(A) to meet the noise limit set for out-of-hours deliveries in regulated areas. Open cell foam reduces noise propagation outside the motor compartment, and a clamp has been added to prevent movement of the battery. Steel-to-steel contact points have been removed, and a softer drive tyre enables a quieter operation.