Yodel has partnered with trailer manufacturer Cartwright to develop a safety gate to protect workers from falling items when trailers are opened.
These gates have been fitted to 50 new trailers. The gate uses two bifold mesh gates which can be opened individually, replacing the standard fabric net.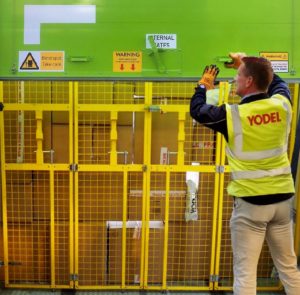 It allows workers to open the back of the trailer and see clearly what is inside, without the risk of loose loaded items falling on them. If there is a danger that some items may fall, then sections of the bifold gates can be opened individually and the items reorganised or removed in a controlled manner.
Andy Johnson, director of health, safety, environment & quality at Yodel, said: "Working with key partners, like Cartwrights, is part of our on-going commitment to think outside the box, as we develop solutions to help make the industry safer."