DHL Express has extended its city hub concept for inner-city deliveries to The Hague, Netherlands with a new pilot involving electric vehicles.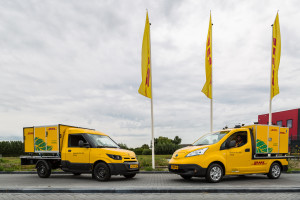 This will also see the first deployment of the StreetScooter electric delivery van in the global DHL Express network.
The City Hub concept was first launched in March 2017 in Utrecht and Frankfurt. A van brings the trailer into the city centre, where the containers can be quickly loaded on to Cubicycle (special cargo bicycles) for delivery over the last mile. The Cubicycles carry a container that can weight up to 125kg.
The extension of the project in The Hague will use a modified pick-up version of a StreetScooter and a Nissan e-NV200 take on the last-mile delivery of up to three containers each.
Combined with larger 7.5-tonne trucks that can bring a higher number of 125kg containers into the city centre, this will make the overall transport more operationally and environmentally efficient.
John Pearson, chief executive of DHL Express Europe, said: "Deutsche Post DHL Group has set a target of operating 70 per cent of first- and last-mile delivery services with clean transport modes by 2025."