Deutsch Post DHL's 1000th e-bike StreetScooter has been put into service. The cargo bikes reach 25 km/h and can carry up to 50kg.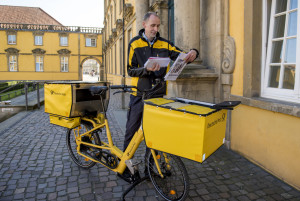 "We mean business with our climate protection campaign. We're very passionate about it," says Jürgen Gerdes, the Deutsche Post DHL Group board member responsible for post – eCommerce – parcel. "And in addition to the benefits for the environment, our employees also benefit from using the most modern equipment."
DHL currently operates 2,500 StreetScooter electric trucks and 10,500 pedelecs (e-bikes and e-trikes). The logistics business is aiming to replace all of its delivery fleet with electric vehicles. According to the company, it aims to convert 70 per cent of last mile-deliveries to clean solutions by 2025.