Forth Ports is investing in 11 new Kalmar straddle carriers – six have already been delivered to the London Container Terminal at Tilbury, and five will be delivered to Grangemouth early next year.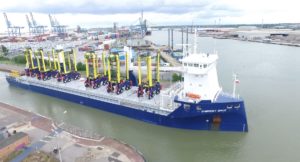 In London, three of the six new straddles are part of LCT's equipment replacement programme, with the other three going into service to meet the increase in container business at the terminal. The current fleet at the terminal is now 36 straddles.
In Grangemouth the purchase of the five new straddles is part of a major investment programme at Scotland's container terminal to increase its capacity for storing both conventional containers and reefers. The new straddle carriers will replace five of the existing fleet of 16 and commence the transition to four high straddles from the current three high straddles.