First call for new Asia-Europe service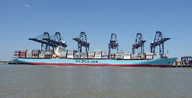 Maersk's AE1 Asia-Europe service has made its first call at Felixstowe. The 6,600 teu Sine Maersk, which arrived at from Tanjung Pelepas in Malaysia, is one of eleven ships of between 6,600 and 8,600 teu on the service.
A new daily rail freight service has been added to support the Asia-Europe service. The 24-wagon train is operated by Freightliner and dedicated to Maersk Line. It provides a daily scheduled connection to Birmingham International Freight Terminal at Birch Coppice. This increases the number of services Freightliner operates from the port to 21 per day and brings the number of inland rail terminals with a direct connection to Felixstowe to thirteen.
Maersk operations director Mark Cornwell said: "This new call enables Maersk Line to make more efficient use of our extensive inland infrastructure, including offering a new, high-cube cleared, daily service to and from Birch Coppice, the ninth rail destination served by Maersk Line from Felixstowe."
And Hutchison Ports chief Chris Lewis said: "Felixstowe has been Maersk Line's main port in the UK for many years, and the arrival of the AE1 service means that all its main east-west services are now calling here."