Costco, the wholesale giant, has appointed JF Finnegan to construct a 375,000 sq ft distribution depot at Crick in Northamptonshire.
It bought the 60 acre site at Gazeley's G.Park Crick development for an undisclosed sum on July 2013.
Sheffield based Finnegan will undertake the design completion and construction of the new distribution depot on the site on Dockham Way.
The 36 week build will start this month and has a completion date of end of September 2015. The design will allow the future construction of a second phase.
When the new site it complete, Costco will move out of it old unit on nearby Magna Park in favour of the new larger, purpose built facility.
In addition to warehousing and office accommodation, the new depot will incorporate an e-commerce section for Costco's online orders.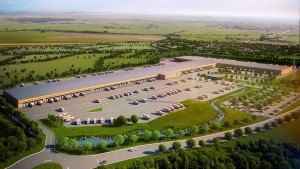 JF Finnegan's has constructed a number units around the UK for Costco. Gary Smith, managing director of JF Finnegan, said: "A key factor in the development of the unit is to ensure scope for additional future development with minimal operational disruption. We are gearing up to starting work on site with completion scheduled for this Summer."