Sporting goods retailer Decathlon has relocated to a purpose built 257,000 sq ft warehouse at Brackmills Point in Northampton developed by BARJANE to accommodate businesses growth.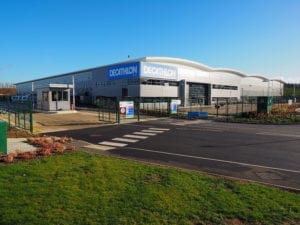 Adjacent to the building is land for expansion of up to 100,000 sq ft of additional warehouse space. The warehouse is built to a "very good" BREEAM certification level, an EPC rating of A11 and rainwater harvesting for bathrooms.
The also has on-site multi-use games pitches to provide a better place to work for employees.
"This Decathlon facility is ideally and strategically located to service our existing store network and growing online demand.  We wanted to remain in Brackmills and continue to contribute to the local economy by creating the best place to work in the Brackmills Industrial Estate," said Decathlon UK expansion manager, Ricardo Rodriguez.