House of Fraser showed un underlying EBITDA loss of £31.5 million in the 11 weeks trading to 28th October, according to parent company Sports Direct.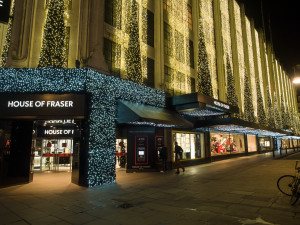 Sports Direct acquired the HoF business on 10th August. In its interim results for the first half, the company said: "As has been well publicised, during the initial post-acquisition period the House of Fraser website was not accepting orders for a short period as systems and processes were reset and brought back online.
"The Group has spent the post-acquisition period working with staff, suppliers, concessionaires and landlords to create a viable business which will be a core part of the elevation strategy of the Group."
Sports Direct chief executive Mike Ashley said: "During the reporting period we acquired the trade and assets of House of Fraser and I would like to welcome my new colleagues to the Sports Direct Group. I have made my views clear that I believe the previous House of Fraser senior management team traded the business while it was insolvent for a long time, this means we have significant challenges ahead in turning House of Fraser around."
Group revenue was up 4.5 per cent to £1.8 billion, while underlying EBITDA (excluding House of Fraser) was up 15.5 per cent to £180m.