CollectPlus is returning about 5,000 parcels to House of Fraser customers – returns that it has been holding since HoF collapsed in August.
The move follows confirmation from the administrators of the HoF business that refunds are unlikely.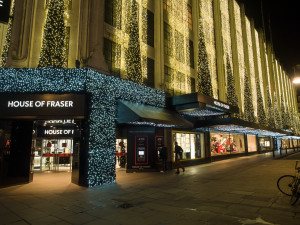 CollectPlus is partnering with Clipper Logistics. The operation is expected to take two weeks and will involve opening every parcel in a secure environment to identify the rightful owner via the returns note. Each order will then be repackaged and relabelled before being sent back to the customer.
Neil Ashworth, chief commercial officer of Yodel and CEO of CollectPlus, said: "Through no fault of their own, customers of House of Fraser have been caught in the middle of the retailer's collapse, with items that they have bought and paid for being refused by the returns warehouse.
"The administrators have now confirmed that refunds are unlikely, and so CollectPlus has taken the decision to return items back to customers free of charge, so that they are not left empty handed."
CollectPlus has been storing the parcels after it was unable to access to House of Fraser's outsourced warehouse to return the items, which had been sent via CollectPlus Points on or after 8 August.
Following Sports Direct's deal with the administrator, it was hoped that the warehouses would reopen, and the returns could be processed as usual, however it has become clear that customers returning items are unlikely to receive a refund.
Ashworth said: "We believe we are doing the right thing by the customer."