Amazon UK Services, the company that operates the retailer's fulfilment centres in the UK, increased its turnover by 36 per cent to £1.99 billion last year.
The increase in operating profit was even more spectacular – up from £26.6 million to £79.8 million – a 200 per cent increase.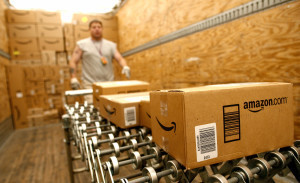 The company opened new fulfilment centres and expanded its UK delivery network increasing both turnover and headcount.
Amazon has set out plans to four fulfilment centres in the UK in 2018: Rugby, Bristol, Bolton and Coventry.
By the end of 2018, Amazon expects to employ more than 27,500 people across its operations in the UK which include not only the fulfilment centres and delivery stations, but development centres in Cambridge, Edinburgh and London, Amazon Web Services data centre, the head office and fashion photography studio in Shoreditch.
Amazon currently has 16 fulfilment centres in the UK. There are three fulfilment centres in Doncaster and one each in Coalville (Leicestershire), Daventry, Dunfermline, Dunstable, Gourock, Hemel Hempstead, Manchester, Milton Keynes, Peterborough, Rugeley, Swansea Bay, Tilbury and Warrington.