NFT Distribution Operations has taken on 40 new Schmitz Cargobull tri-axle refrigerated trailers as part of its aim to replace its older vehicles.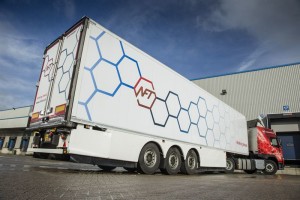 The deep freeze S.KO COOL trailers will be used for the primary distribution of fresh foodstuffs from the producers to consolidation centres on a national scale.
NFT Fleet engineer Dave Seaton said: "We started to replace our fleet with Schmitz Cargobull trailers three years ago following a 12-month trial of reefers from a number of manufacturers.
"It was clear at the end of the trial period that Schmitz Cargobull was the clear winner in terms of fuel efficiency, quality and total cost of ownership."