Operating profit rose 41 per cent last year at UPS Ltd, the parcel giant's principal UK operating company, to reach £55.5 million.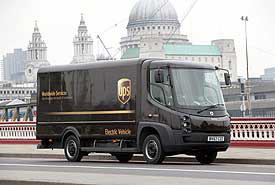 UPS Ltd is responsible for domestic and international parcels services. Turnover for the year to 31st December 2014 was up ten per cent at £837.2m.
Operating profit rose from £39.2m in 2013 to £55.5m. Operating profit margin rose from 5.2 per cent to 6.6 per cent.
The company said it expected growth in both domestic and international revenue to continue over the next three years generating improved profitability.
Operating profit at UPS SCS (UK), the forwarding and logistics management services business, slipped slightly from £3m to £2.94m. Turnover was up from £82.3m to £87.5m.
The turnover increase was mainly due to the existing customer base from the freight forwarding division shipping more volume during the year, the company said.
Earlier this month, UPS  applied for planning permission for a 400,000 sq ft hub and parcel distribution facility at London Gateway Logistics Park.
* In June, UPS appointed Luis Arriaga to take over as UK, Ireland and Nordics district manager following the promotion of George Willis to west region president for UPS in the US.