Air cargo has seen one of the most turbulent years in its history.

Michelle Mooney

examines how the industry is taking off again
Long before the world had ever heard of Covid-19, air cargo volumes were already under pressure from the trade war between China and the USA. In 2019, for instance, the International Air Transport Association (IATA) released data that showed freight volumes contracting by 3.9% in August 2019 compared to the same month in 2018. Worse still, this was the tenth year that volumes had shown to be steadily declining. At the same time, capacity growth outstripped demand for volumes.

 
Fast-forward a few months later to the pandemic in March 2020, and industry-wide cargo-tonne kilometres (CTKs) plummeted by 15.2% year-on-year. Cargo capacity also declined by 22.7% as a result of passenger flights being grounded. To offset these capacity issues, many passenger aircraft switched to freight only, and existing carriers increased their operations. As capacity contracted more than global demand, the global load factor improved by 4.8 points in March 2020, when compared to the same period in 2019. 
More than a year later, air cargo is still recovering from the multitude of externalities that have impacted volumes. From trade wars and political instabilities to the pandemic, freight operators are beginning to see shoots of recovery from increased e-commerce demand. 
The latest data from IATA reflects that air CTKs for May were up 9.4% compared to pre-Covid levels in May 2019. According to IATA, air cargo outperformed global goods trade for the fifth consecutive month. If the figures are anything by which to judge, the signs are things are slowly returning to normal. 
Visible improvements
Brendan Sullivan, IATA's new Global Head of Cargo, explains that an increase in transparency and end-to-end visibility is one of the trends seen from a rise in e-commerce, particularly in perishables and medical shippers (specifically vaccines). "Visibility via cargo tracking and monitoring is no longer a nice to have… but a must," Sullivan begins. "Although this trend wasn't a direct result of the pandemic, it has accelerated, resulting from the need for better operational insight as personnel may have been forced to work remotely."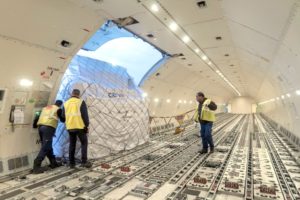 A great deal of the goods transported by air freight are time-critical, hence the just-in-time (JIT) supply chain in air cargo faces continuous pressure to deliver. "Given the need to operate on a JIT basis, air freight in the automotive industry continues to grow – only air cargo can transport time-critical parts to their destination in hours rather than weeks," states John Cheetham, Chief Commercial Officer at IAG Cargo. "This is also important  in the medical and pharmaceutical industries," he adds. "Transporting goods quickly here could mean the difference between strained or functioning health services. Air freight is therefore an essential industry that will benefit from the newest technologies."
VISIBLE IMPROVEMENT

After May's subdued performance, global air cargo resumed its 'long and winding road' to Covid recovery in June with a 1% growth in demand versus the same month of 2019, as airlines continued to micromanage cargo capacity, according to the latest industry volume, load factor and rates data from analysts CLIVE Data Services and TAC Index. June's performance data was relatively strong and seems to confirm that May's decline was a one-off, possibly impacted by public holidays that month. The global air cargo market now seems to be back on track, reflecting what The Economist described as the 'long goodbye' to Covid's impact on our everyday lives.
But the e-commerce boom only adds pressure to an already stretched system at times, and carriers are well aware of the potential for disruption. "The economic restarts combined with changing customer demands from services to products have had big impacts on retailers all the way down to manufacturers, Tier 1s and raw materials," reveals Peter Penseel, COO, Air Freight, CEVA Logistics. To cope, CEVA "proactively secured lanes to anticipate and mitigate any disruptions", specifically in manufacturing. It has taken a strategic approach to cope with the current situation globally, launching a wholly owned and controlled capacity program called SKYCAPACITY. 
Green sky thinking
Sustainability is not just a key driver for retail and energy, but also for air freight supply chains, and this is another key trend that is more prominent than ever before. Sullivan explains that sustainability has "long been a key priority for the industry, and now also sits right at the top as consumers continue to make their voices heard." He adds that IATA is "committed to addressing sustainability" across the business to meet all the sustainability targets and possibly "do more". 
The air freight industry is typically one of the most polluting, so transforming it to become a leader in eco-conscious best practice will be a huge win for logistics as a whole. "Most recently, IAG Cargo partnered with Kuehne+Nagel to source an initial supply of 1.2 million litres of Neste MY Sustainable Aviation Fuel", continues Cheetham. This is made from sustainably sourced renewable waste and residue materials.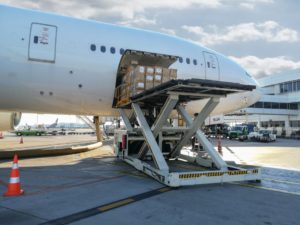 Similarly, IAG Cargo's sister airline, British Airways, has partnered with sustainable aviation fuel (SAF) technology company Velocys to develop Europe's first household waste-to-jet fuel facility in the UK. It has also committed to purchase sustainable jet fuel from LanzaJet's US plant as part of its investment deal in LanzaJet to power some of its flights from late-2022. The company is also investing US$400 million into the development of SAF over the next 20 years. 
The transporters
Another key aspect of air freight that operators are looking to transform is that of ramp vehicles – the transporters that load cargo onto and from aircraft. These types of transporters are increasingly being designed to operate without the need for diesel, and many are now made to run on electric batteries. 
CEVA Logistics is another freight carrier that is investing in upping its environmental credentials. As part of the CMA CGM Group, the company is "committed to the protection of the environment", stresses Penseel. "As a whole, the Group is spending heavily on R&D to help the emergence of future energy sources and technologies to reduce the impact of transport and logistics on the planet." Through this, he says that CMA CGM is planning on becoming carbon-neutral by 2050. 
So what new breeds of technologies are transforming the industry? Sullivan feels IoT devices are on the rise in areas such as temperature control, location checking and shipment-characteristic monitoring. "We see many more airlines looking into the standards developed under our Interactive Cargo project to use the devices safely (approval processes) and efficiently via data sharing and integrating into the ONE Record data model," he says. Other digital technologies are emerging such as mixed-reality environments and "enhanced processing capabilities such as dimension verifications or compliance checks".  
REAL CHANGE?

The pace of change is rapid at the moment, which is definitely transforming operations, according to IATA's Brendan Sullivan. That digitalisation is allowing for increased collaboration across the supply chain, which is vital especially for a time-critical industry like air cargo. Sullivan says "this industry is very agile and works best when united around common objectives, such as supporting the global community during the pandemic, delivering vital goods around the world." 
One final digital technology trend that has been increasingly utilised over the past few years is that of the 'digital twin'. "These allow for a new level of cargo facility optimisation," says Sullivan. "By using digital twins, real-world data can be used to create simulations that can predict how a product or process will perform, in doing so improving operational efficiency." 
Sullivan adds that many digital measures were brought in to protect aspects of the air freight supply chain, such as control towers, bookings, and other "operational insights". Even after the pandemic subsides, these extra measures look set to remain in place.
Another trend frequently emerging is that of robotic and automation technology. "Even more opportunities emerge such as automated build-up or self-driving vehicles that can be more sustainable in some cases," Sullivan suggests. 
What's next?
"The uncertainty [of today] will remain until the global supply chain finds an equilibrium between consumer demand and available capacity," suggests Penseel. And as the economy recovers, air freight will need to keep up with the pace. 
"Air cargo must present a long-term value proposition both to the customer, to command a premium for the service, and the stakeholders, to convince investors and decision-makers that cargo deserves to retain a place in the boardroom," adds Ashok Rajan, Global Head Cargo & Logistics Solutions at IBS Software.
The overall outlook in the industry seems to be positive, however, with the economy set to bounce back sooner than expected. With that, air cargo volumes might then become more steady and predictable. "With the global economy primed with economic stimulus," concludes Sullivan, "the near-term outlook is good."
If you like Logistics Manager the magazine, you're going to love it when the subject matter of the publication comes to life at Final Destination Logistics on 18-19 May 2022, taking place at the Exhibition Centre, Liverpool. For more information, please click here