In the hotly contested 'Clipper Logistics Supply Chain Innovation Award' at the Supply Chain Excellence Awards on Monday 8th November, the trophy was ultimately awarded to Geek+, Asda Logistics Services and AMH Materials Handling for the successful launch and integration of an intelligent sorting system in the retail giant's West Yorkshire distribution centre.
The announcement was made by special guest host Shaun Williamson and the award was presented by Clipper's Development Director, Laura Brawn.
This was a landmark deployment for Geek+, marking the first time its technology had been used in this way on UK shores, deployed in this instance to assist Asda's 'toyou' service in the face of heightened demand for parcel collection and returns arising from the e-commerce boom.
The collaborative nature of the project was especially pleasing to hear for the judges. "We were also impressed how there was consideration from operator to customer as well as how it supported Asda's retail partners all the way through to the consumer," they noted in their deliberations. "There is clear ambition to scale further as an iterative process to the next phase."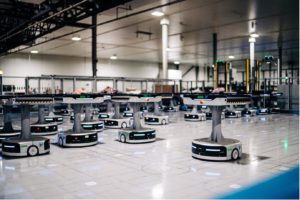 With the pandemic spurring that almost instantaneous shift in customer behaviour and an uplift in the number of purchases made online, Asda toyou experienced substantial growth through the provision of a reliable, convenient returns solution that allowed shoppers to combine activities in a single trip to an Asda store. At the same time, Asda toyou expanded the number of retailers it supports. More than 100 are now available via the service, which has seen it process 65% more returns than at the start of 2020. Sixty robots were placed into the supermarket's South Elmsall DC, allowing 2,000 parcels to be sorted each hour with 99.99% accuracy.
What was especially innovative was the integration of Geek+'s S20C robots into the existing ALS sorting system. The judges learned that this provided Asda toyou the capability to respond to rapid changes in order volume and continue to provide excellent services during periods of peak demand.
In their presentation to judges earlier in the year, Asda stressed that the robots work alongside its staff members. By letting a network of AMRs transfer incoming parcels from workstations to cages of corresponding destinations, accuracy and efficiency improved while also making the process more ergonomic for warehouse employees. With no need for fixed platform development, it makes it easy for Asda to scale operations in line with business growth. To achieve that, all that needs to be adjusted are the number of robots and destination chutes.
The Geek+ sorting robots are a flexible technology that can be integrated and customised to work with existing equipment on customer sites, such as conveyor belts or other robots.
What they said… We're proud to see AMH leverage our sorting system to support a leading retailer like Asda with the flexibility and efficiency needed to expand its Asda toyou business.
What we said… We could see a great opportunity for scalability with this project, the capability to deploy it quickly to handle Covid and Christmas peaks. Ergonomics and layout from an operator point of view were also considered very carefully and this was impressive. Overall, this was a very innovative use of AMRs for autonomous sortation/robotics, with better accuracy than manual equivalents.
For sponsorship opportunities for the 2022 Supply Chain Excellence Awards, please click here