Two planning applications to develop up to 7.5 million sq ft of storage and distribution buildings at Magna Park, Lutterworth, have been approved by Harborough District Council.
The council revealed the decision on Twitter:
Two planning applications to create storage and distribution buildings around Magna Park near Lutterworth approved tonight by @HarboroughDC

— HarboroughDC (@HarboroughDC) November 23, 2017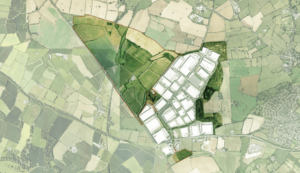 The committee have approved plans by DB Symmetry for the erection of almost 3 million sq ft of storage and distribution buildings with ancillary offices, creation of access onto A4303 and emergency services only access onto A5, formation of a Lorry Park, creation of SuDS facilities and other associated infrastructure and the demolition of Glebe Farmhouse (Means of access only to be considered) on land adjacent to Glebe Farm, Coventry Road, Lutterworth.
The council also approved Gazeley's application for the demolition of Lodge, Emmanuel and Bittesby Cottages and erection of up to 4.5 million sq ft of storage and distributions with ancillary offices (B1a), including up to 39,826 sq ft for a Logistics Institute of Technology with associated playing field, up to 96,875 sq ft small business space.