Seymour Distribution has renewed a £79 million a year contract with Smiths News, part of the Connect Group.
The agreement secures all Smiths News' distribution territories with Seymour from 2020 through to 2025.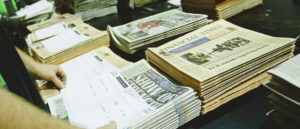 Seymour, which is part of Frontline, has a 20 per cent share of the UK magazine market.
The deal means that Smiths News has now renewed three of its largest newspaper and magazine contracts. The other two are News UK and Frontline. Together the three contracts account for 36 per cent of Smiths News total sales revenues and 61 per cent of its magazine revenues.
Jos Opdeweegh, Connect Group chief executive officer, said: "I am delighted to confirm this new agreement with Seymour, one of our largest magazine partners. At our preliminary results, we identified the renewal of our distribution contracts as a key priority for FY2019. This contract maintains the momentum, supporting our goal of delivering sustainable value from the Smiths News business."
Renewing key contracts with major publishers was highlighted as a priority for Smiths News in the year ahead, by the Connect Group in its annual report for 2018.
It is also focusing on maximising costs savings at Smiths News "to diminish the impact of the price adjusted volume decline in the business".
Smiths News operates a distribution network including six major hubs and 33 satellite depots from where it delivers to 27,000 customers.