Aggregate Industries, the building materials supplier to the construction and infrastructure industry, has chosen Eddie Stobart as its Concrete Products division's new logistics supply partner.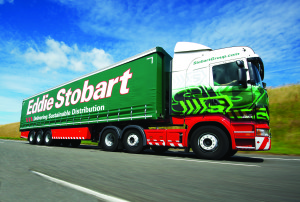 From October, logistics for Aggregate Industries' Concrete Products division will transfer to Eddie Stobart's manufacturing and industrial business unit on a five-year contract.
Stobart will carry Bradstone, Charcon and Masterblock products from 14 UK sites, using a combination of specialist curtain-siders, flat trailers and mechanical off-load vehicles.
Simon Marriott, concrete products director at Aggregate Industries said: "During a competitive tender process it was clear these two companies share a similar ethos, both committed to delivering innovative, tailored solutions and first class service to our customers. We're delighted to announce Eddie Stobart as the new logistics partner for our Concrete Products division and look forward to working with their dedicated manufacturing and industrial team."
And Stobart CEO Alex Laffey said: "We are delighted to call Aggregate Industries our partner in the infrastructure sector. Our multimodal offering also presents a much broader opportunity for Eddie Stobart to support Aggregate Industries' efforts in reducing the amount of product moved by road, and helping further our commitment to sector-leading sustainability."
Aggregate Industries' Building Materials division signed an eight-year partnership deal with TDG (now XPO) worth £50 million annually back in 2008.