Airbus has partnered with DB Schenker to develop a logistics plan to use waterways to transport components to its final assembly plant in Mobile, Alabama, reducing the use of road transport.
Using a new roll-on/roll-off terminal, its barge, and a newly-dredged section of river, Airbus can now use larger vessels to transfer the components by water.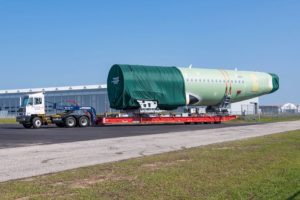 The solution borrows a page from Airbus' European operations and means that larger ocean going vessels are now being used for the international transport of four complete aeroplane "ship sets" per month.
Working with local contractors, DB Schenker also refurbished a pier (at the production plant) and constructed a new aeroplane hangar, both of which are enabling just-in-time delivery and use of the parts.