Supermarket chain Aldi has taken delivery of 25 Vector 1950 multi-temperature units from Carrier Transicold as part of a transition to multi-temperature refrigeration systems, which provide the flexibility to transport a mix of ambient, chilled and frozen goods in one consignment.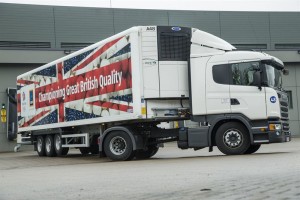 The units are mounted to 13.6-metre Gray & Adams refrigerated trailers, and the 25-strong order will be split between three Aldi regional distribution centres, in Bathgate, Swindon and at the company's 29-acre UK headquarters in Atherstone.
"The Vector 1950 MT systems give us the power we need to consolidate deliveries, making our fleet more efficient, and able to cope well with frequent door openings. We also opted for the low noise specification to reduce unit sound emissions, given most deliveries take place in urban area," said a spokesperson for Aldi.
The Atherstone-based trailers will be in service year-round, delivering chilled, ambient and frozen produce to Aldi stores within a 35-mile radius on an 11-hour, two-driver shift basis. Aldi plans to keep the trailers in service for ten years and expects them to cover more than 90,000 miles annually, making an average of five deliveries per day.