Aldi has opened a £50 million 60,000 sq m site distribution centre in Sheppey, Kent to serve nearly 60 stores and create 400 new jobs.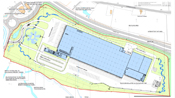 Aldi also plans to open a further 130 stores across the UK throughout this year and next, and plans to extend its long-term store opening target to 1,200 stores across the UK by the end of 2025.
"The new Sheppey distribution centre significantly increases our capacity and allows us to open more stores across the South East to cater for the growing number of shoppers switching to Aldi," said Isle of Sheppey Regional Distribution Centre managing director Ben Shotter.
"Although some of our newest and most popular stores are situated in the South East, there are still many towns and cities where we have a limited presence or none at all. This is something that we are looking to address in the coming years."