DHL Express chief Ken Allen says that Amazon is no threat to the company's express business or to international logistics in general. However he has warned that the retail giant posed a threat to domestic logistics.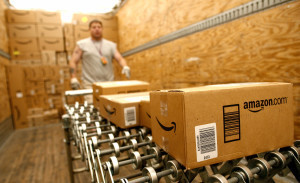 "I dont think they're going to compete with us," said Allen. "I accept that they are in logistics – but specifically from an express point of view I think it's a lot more difficult for them.
"Why? Because the volume of international is nowhere near the volume of domestic, and to be in 200 territories worldwide that is a long journey. We're 50 years into it, we founded that business and we're pretty well established.
"If you're a domestic company, then yeah I think they are a big threat. You see that now in the US because they have had to build out for these peaks. Now they are saying in Los Angeles they are going to start offering that delivery service to third parties, which could be a threat to FedEx and UPS."
He said that, although he didn't think that Amazon is going to offer an international service that competes with the DHL Express in the immediate future, that they could compete against Deutsche Post in Germany, if they decided to.
"I think in those domestic markets where you're trying to get closer and closer to that last mile delivery, I think that's where the competitive threat does come from," he said. "They seem grow phenomenally and seem to be able to react to it.
"I think the international business is a bit more complex and out of their sphere."
Allen added that there are potential synergies between Amazon and pure express companies like DHL.
"I mean we're doing their daytime sort, and we've both got similar partners, it could work similarly in Europe where a lot of our facilities are empty during the day and our flights only go out at night, if there was a will and a capability that could happen," he said. The company is already partnering with Amazon in the US, where the retailer uses DHL's Cincinnati hub during the day.
Are cyber attacks a threat to DHL?
Amazon might not be a direct threat to DHL Express, but are cyber attacks a concern for the logistics business?
"We've had small examples – there was one where a sub contractor of one of our sister companies did something in Shanghai and it impacted our operation in Leipzig, it was only a thin server and it didn't have an impact on our business per say, but it just shows you that these days the rapidity in which these things can spread," he said. "And I think companies like ours, we have to be super diligent because you know the one that hit some of our competitors in Ukraine, it also hit us.
"So our Ukrainian business was impacted for a while, but our firewalls were sufficiently strong, so it didn't travel out and I think that's the great thing about having a globally integrated network, that the firewalls can be very protective.
"But really it all starts in the service – it starts at the lowest level because if it can get in from a place like Ukraine, a lot of our smaller locations around the world have got to be well protected."
He pointed out that it could be the business' partners that could open the door to an attack.
"If we're using Magenta or Shopify as an interface between the seller and the buyer, if anything gets in there we have to be doubly careful," he said. "And that's why you face this dichotomy all the time.
"Security is got to be the number one thing in my mind because one mistake on security and the whole network could come down, and that can have massive financial damage on the company.
"So we've got a number of cyber security units set up. We've got one in Israel as well because the Israelis are always looking at where these attacks are coming from."