Amazon has patented what it calls "multi-level fulfilment centres" for drones in urban areas.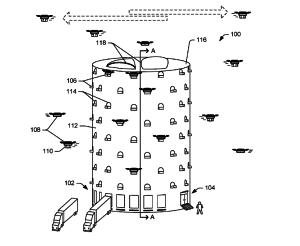 The fulfilment centres would be designed to accommodate landing and take-off of drones, "possibly in an urban setting", such as in a densely populated area.
In the patent, Amazon said that unlike traditional fulfilment centres, the drone centre may: "include many levels as permitted under zoning regulations for respective areas. The fulfilment centre may have one or more landing locations and one or more deployment locations to accommodate UAVs, which may delivery at least some of the items from the fulfilment centre to locations associated with customers."
The plans come just six months after the e-commerce giant patented flying DCs, or "airborne fulfilment centres". These floating centres would be supported by an airship, could reach high altitudes of around 45,000 sq ft, where drones would be deployed with ordered items to delivery destinations.