Amazon has launched a new 'Uber-style' service in Birmingham that uses part-time drivers to deliver its goods.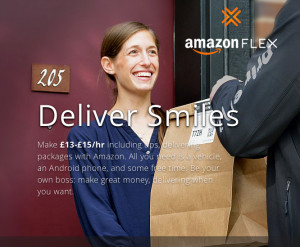 The 'Amazon Flex' service says it will pay drivers £13 to £15 an hour. This is based on delivering a number of packages across an estimated length of time.
Amazon says that all a driver needs is 'a vehicle, an Android phone, and some free time'. Drivers must be at least 18 years old, have the right to work in the UK, have a car and a valid UK licence, not be an Amazon employee, pass a background check, and maintain appropriate vehicle insurance coverage.